Client
One of Australia's leading energy companies offering electricity, gas, solar and renewable energy services to homes and businesses.
Challenge
To ensure the safety of employees and reduce asset maintenance costs, our client needed to install custom-designed cranes on top of one of their 40-metre-high storage tanks for maintenance and to quickly rescue an employee in the event they became injured. Due to the hazardous environment requirements of the site, electrical equipment would have to be either excluded or chosen very specifically for the hazardous environment rating.
Solution
Advitech was engaged by our client to engineer and certify two davit cranes to be rated for a working load limit specific to the PP01 and PP02 platforms located on the existing gas storage tank.
Advitech's engineers and drafters produced new designs based on the requirements of all relevant codes and standards including AS1418. Our engineers and drafters were involved in all phases of the development including:
3D modelling
Testing
Certification by chartered engineers
Development of manuals
Advitech's structural engineers and drafters also dealt with the platform modifications required for the new davit crane installations – meeting AS1657 and AS4100 requirements.
Outcome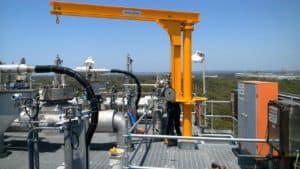 Working in close partnership with our client, Advitech provided this major hazard facility with a turnkey solution – improving both personnel safety and access.