Client
The Advitech Group were contacted by a leading civil construction contractor, to assist with the development of a concept and detailed design for an extension of an existing Production Stockpile Pad (PSP) and drainage and pavement remediation works for the existing stockpile area.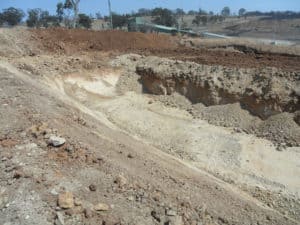 Challenge
The client wanted to increase the output of the existing coal stockpile, which in turn would increase the output of coal from the mine. In addition, the client wanted to reduce the existing stormwater issues associated with the existing stockpile area.
After conducting a geotechnical review and assessment of the production stockpile pad, it was determined that the existing design for the pad was likely to lead to ongoing performance and maintenance issues. Concerns over drainage of the stockpiled coal and trafficking of heavy vehicles including dozers over the pad were prioritised in the brief.
Solution
The Advitech engineering team undertook the detailed design of the stockpile extension as well as the detailed design of the remedial measures for the existing stockpile area.
Components of the job completed by Advitech included:
Design of the extension of stockpile including bulk earthworks, safety bunds/windrows, swale drains, subsurface and surface stormwater assets
3D modelling of the profile
Liaison and management of sub-consultants
Preparation of construction engineering plans the stockpile
Redesign of existing stockpile and gradient to improve drainage;
Pavement design for a light-medium vehicle access road; and
Preparation of a staging plan for the construction to minimise the impact on ongoing operations.
Outcome
Whilst this project is still in progress, the Advitech civil engineering team have delivered safe and practical designs that will guide the civil construction contractor to deliver a project that will meet the client's needs.